Revolution Gaming Network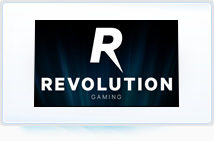 Having gotten their start in mid to late 2012, the Revolution Gaming Network is a relative newcomer to the industry. However, between their buyout of the Cake Poker Network (which came with 60+ partners or "skins") and their own player base from when they were with Merge, Revolution has managed to position themselves as one of the highest trafficked networks for American players. They're in the top 20 in terms of overall traffic worldwide.
Given that, we thought it would be fitting to review their network and some of the sites on it. Read on to learn more about Revolution's background, the sites on their network and the traits that distinguish them from other US accepting networks.
Revolution Gaming Network Partners / Sites
The Revolution Network has more than 60 partners, nearly all of which come from their acquisition of the Cake Poker Network.
Here are the top sites on the network.
Juicy Stakes – Accepts US Players
Win Cake (Cake Poker)
Lock Poker – Accepts US Players
Power Poker
Never Felted Poker – Accepts US Players
InterTops Poker
Red Star Poker (recently lost to Microgaming Network)
Cake Poker was recently rebranded to Win Cake and is positioned to only cater to non-US players. The American version of Win Cake is Juicy Stakes Poker.
That's only one change of many that we've seen over the last couple of months. For example, Red Star Poker, a longtime Cake Network partner, recently made the move to the Microgaming Network. Poker World (dot com) moved as well, switching to the Olympus Entertainment Group (according to their about page).
In despite of the many sites leaving the network, the Revolution Gaming Network remains a top 20 poker site in terms of overall traffic. Last I checked they had more than 2100 players online, with their 24 hour peak being 740+. Many of these players comes from the move from the Merge Network. Not only does the loss of players sting, but the shift of players also forced a change of positions in who is the biggest (American) poker site.
What Makes Revolution Different From Other Poker Sites?
One thing that makes the Revolution Network different from other networks is their software. It's a combination of Cake Poker's software (which worked well, but was ugly) and their own. Over the last several months, several updates have been rolled out, each one making the software more and more unique to Revolution Gaming.
One aspect that is particularly unique about the software is what's been referred to as Fair Play Technology. What this does is restrict winning players from being seated at tables predominately filled with losing players. This is the network's attempt at trying to level the playing field, and preventing the losing players (fish) from being hunted out, targeted and taken advantage of by winning players. Currently, only Lock, Cake, InterTops and Buzz Poker are known to be using it.
Being a winning player I don't particularly care for this. You could say it's discrimination. At the same time, though, I can see why they're doing it. Revolution Gaming is trying to improve the poker economy by giving recreational players a safe place to play. It's kind of like Ignition's approach in having anonymous tables. Only time will tell if it works. But for the time being it's a solid network of poker sites to check out if you like to play poker just for fun, and not necessarily for a profit.
Revolution Gaming Network History
Revolution's history reminds me of that of an army brat – they moved around a lot.
Revolution Gaming originally started off as Lock Poker, which is now their standalone, flagship site. They started with the Cake Poker Network, which was founded in 2004. Lock remained with Cake from 2008 to 2010, in which they decided to move to the Merge Network. They did well here, reportedly hosting as much as 40% of the overall traffic on the network.
Shortly following their move Lock decided to close their doors to US players (this was right after Black Friday). They then moved to LockPoker.eu and opened their doors again to Americans in October of 2011.
Shortly thereafter they decided that they outgrew the Merge Network and that they needed to move yet again. However, instead of moving to another network, they purchased the then struggling Cake Poker Network. The purchase was completed in 2012, and from that point forward the network was rebranded by Cipaco N.V. to the Revolution Gaming Network. The Revolution Network accepts all US players. Regardless of whether you live in South Carolina, California , Texas or Alabama - you can play here. That's where the likes of Lock, Juicy Stakes and Power Poker have been ever since.