Merge Poker Network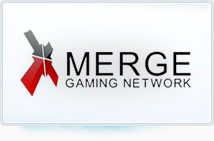 I remember playing on Carbon Poker, the flagship site for the Merge Gaming Network, when I first discovered online poker. I was drawn to their variety of games and their freerolls that started every 4 hours. I would get up just in time to make the 8am freeroll so that I could try to build a bankroll from scratch.
I know I'm not the only one. The Merge Gaming Network has been a draw for American players for nearly a decade. You can't beat a network that accepts US players, is licensed and, for the most part, has partners that pay their players in a timely fashion.
The only downside to speak of is that the sites on the Merge Network do NOT accept players from states like Washington, D.C., Kentucky, New York, Louisiana, Missouri and Maryland.
Everyone else will want to give this page a quick read. You'll learn more about the Merge Gaming Network, including some details about their background and some of the things that make them unique, such as their software.
Sites on the Merge Poker Network
At one point there were over 60 partners or 'skins' on Merge. However, many sites like PDC Poker and RPM shut down, while others like Lock and Black Chip Poker left to start or join other networks.
Right now the following top skins on the Merge Poker Network include:
Aced poker
Poker Host
PlayAces (Sportsbook.com & PlayersOnly.com)
Poker Nordica
As a whole the network is 20th in terms of overall traffic. They see between 200 and 800 players at any given time, with 400 being the average.
Carbon and Aced Poker (and PDC Poker when it was open) are all owned by the same company.
What Makes the Merge Poker Network Different?
The one thing that helps the sites on Merge stand out is their software. Although they've never been the biggest or most trafficked network of sites (that award belongs to PokerStars, Full Tilt, Party Poker, etc.), they've always had great software. It looks good and comes with a list of features that the others don't. Features like:
Rabbit Hunt – After everyone folds the next card or two that would've been the turn and river are shown. You can choose this option if you want to agonize over folding what would've been a winning hand.
Show One Card – Once you (and your opponents) fold you can show them one of your two cards – a tease, if you will.
Run It Twice – In an all in situation you can run the hand twice like the pros do on TV.
Freerolls – Freerolls run every 4 hours (at least) and have real money prizes.
Emoticons – These are little icons like you'd find on your phone or Skype, but are animated. There are hidden emoticons that you can find with a couple of Google searches, too.
In addition to these features, sites on the Merge Network are known for their side games. From the poker lobby you're able to play casino games like blackjack, video poker, roulette and Caribbean stud.
They're also unique in that they run bad beat jackpots. In fact, in 2009 they paid out the largest jackpot in online poker history. One player won more than $400k when his jack high straight flush was beaten by an opponent's king high straight flush. The king high flush won more than $200k, while the remaining players at the table all received more than $40k for being present at the table.
At the end of the day, though, I'll always remember the Merge Gaming Network for their freerolls. Even today they continue to run them like clockwork, at least one running every 4 hours with a top prize of $8-$15 (minimum) for first place. So even if you're not sure about depositing to their site, you can still check out their software and neat features by creating an account and participating in one of the freerolls. You'll be glad you did.
Merge Poker Network History
According to PokerHistory.eu the network was started in 2004 by Poker.com.
Carbon Poker launched a couple of years later and has been their flagship site since. Despite all the sites that were once on the network, Carbon Poker has far and away been the most popular and trafficked site.
In 2010 the network, along with Carbon Poker, acquired PlayersOnly and Sportsbook.com, two sites that were once on the Cake Poker Network (now Win Cake). Following the acquisition they experienced a 20% growth.
However, that growth was nothing compared to the growth they saw post Black Friday. When PokerStars, Full Tilt Poker and Ultimate Bet left the market, US players had few options to turn to. So where did they go?
The Merge Network. As a result the network grew by 100%. At one point they were the largest poker network for Americans. They grew so much, so fast, that they had to stop registrations between June and August 2011 so that they could catch up on deposits and withdrawals.
They have settled down since. But they remain a go-to network for American players wanting a reliable, fun and safe online poker experience.