Ultimate Gaming Poker Network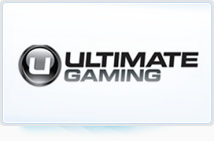 The Ultimate Gaming Network only consists of two brands, and of those two brands, only one of them is poker related – Ultimate Poker. This was the first site to legally establish an online portal for real money poker in the United States. They currently only serve Nevada residents, but with state gaming laws progressing rapidly, I would expect them to partner with neighboring states (California) in the near future so that they can expand their reach / player pools.
Only time will tell, though.
Ultimate Gaming is owned primarily by Station Casinos LLC, whom has several locations (under different names) throughout the city of Las Vegas. They're licensed (both online and off) in the state of Nevada.
Ultimate Poker Software
Ultimate Poker's software wasn't that big a deal when they first started. They released the bare minimum.
However, in August 2013, following the green light from the Nevada Gaming Board to continue with the business, they released version 2.0. This included all kinds of upgrades such as:
Resizable tables and avatars. New timers, preset buttons, more visible buttons and a spotlight were added, too. The graphics were updated overall.
Upgraded server. This was done to help the regular grinders multi-table.
Rebuy and late registration features / tournaments were added.
VIP Program. From reviewing the site when they first came out this was the first thing that jumped out at me. This multi-tier program comes with weekly freerolls, cash back and the opportunity to score $10,000 or $7,000 and a $5,000 bet at the Red Rock.
There are improvements that haven't been made yet. According to their Facebook page update:
This version *doesn't* have a lot of things. Just remember that because it's not here doesn't mean we're not working every single day to getting the features built, tested and deployed as quickly as possible. Just because you see one thing in this version doesn't mean that it's "more important" than something else you don't see – Often some features are pretty lightweight and so we choose to implement those: sometimes it's a matter of balancing how big a bite is with how tasty it is at the buffet.
So if you don't see what you want yet, don't worry; it could very well be added to the next update.
What Makes Ultimate Poker Unique?
Ultimate Poker is unique in a number of ways including:
There were the first network and poker site to launch a real money poker site in the United States.
Players can cash out at any of the Station Casinos.
Players from any state can participate at Ultimate Poker for play money, as well as real money, so long as they're within state lines.
Their promotions are unique in that it can/sometimes involve their live casinos.
What I like about this particular network is that they make the connection from online to live gaming. It's great that you can continue the Ultimate Gaming experience online – even cash out – allowing you to enjoy your bankroll in one of the many Las Vegas casinos.
My hope is that future (legal) US poker networks follow suit.
Ultimate Gaming Background
Ultimate Gaming was founded by Tom Breitling. An entrepreneur at heart, Tom moved to Las Vegas in 1993 with only $100 in his pocket. Along with a gentleman by the name of Tim Poster, they started the site that would eventually become Travelscape.com. Not long after they were acquired by Expedia for more than $100 million, which gave them the cash flow necessary to buy the Golden Nugget properties in Las Vegas for $215 million, which they sold in 2005 for nearly $350 million.
Although Tom is the co-founder, the majority of Ultimate Gaming is owned by Frank and Lorenzo Fertitta. Their claim to fame is being partial owners in the Station Casinos, as well as for purchasing the Ultimate Fighting Championship (UFC) in 2001. What I like about their story is that, at that time, the UFC was regulated only in one state. But now, in 2013, the UFC is regulated in 48 states. With that sort of track record I'm excited to see if they can pull the same feat off with Ultimate Poker, becoming a driving force in the online gaming industry.
Aside from their founders and owners, though, the history behind Ultimate Gaming is a short one. They just haven't been around long enough.
One last fact worth mentioning is that shortly after Ultimate Poker's launch in April 2013, they reached a huge milestone – they dealt their 10 millionth hand of real money poker. The winner of the hand was 2010 WSOP bracelet winner Steven Kelly, whom not only won the hand, but an additional $5,000 as apart of the milestone promotion. At the time there were 700 real money players online. It's amazing how fast they've grown, not to mention that at times they have more players online than sites that have been online for years, not to mention cater to players in more than one state and/or country.