Legal US Poker Sites
Because state laws on gambling vary widely from one part of the US to another, it's important to understand the differences between laws regarding poker play in different parts of the country.
Here's a quick breakdown of each of the 50 states and what those state governments have decided regarding the legality of poker play in all its various forms within state borders. 
US Poker Laws by State - Click Your State Below!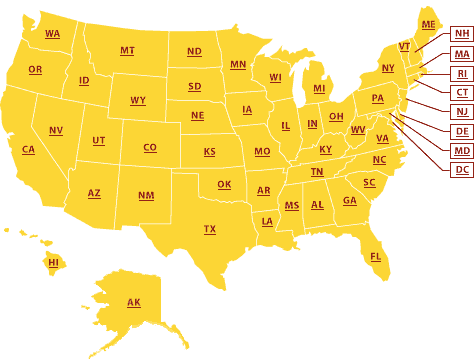 Alabama residents have lots of choices for casino gambling, thanks to large numbers of tribal gaming options in the state, but online poker is more convenient than travelling to a land-based casino within Alabama borders.
The state of Alabama has never convicted a single citizen for playing at an online casino. The state doesn't have any laws about online casino or poker play, and thanks to new opinions at the federal level about the 1961 Wire Act, citizens of the Heart of Dixie can play online poker to their heart's content.
Alaskan citizens aren't at risk for being arrested when playing poker online, though state law makes it illegal for online gaming providers to operate on Alaskan soil. Alaskans themselves are free and clear to place wagers on Internet poker games. Alaskans don't have many options when it comes to poker play in land-based casinos, so online poker is popular among the state's citizens
Residents of Arkansas can place bets at online poker sites without worry of prosecution. Arkansas residents have only a few casino properties within driving distance, so online poker is often the most convenient way to get poker action.
In The Natural Sate, no arrests or convictions have ever been handed down related to online poker play or private poker games. Arkansas is not one of the handful of states that have strict laws against online gambling or private games, so Arkansas citizens can place wagers on poker without worrying about being prosecuted or having their gambling accounts seized.
Plenty of regulated poker options thanks to widespread presence of licensed casinos in the state. Poker rooms are popular and active at major Arizona casinos. Home poker games also legal in Arizona (under conditions detailed by state law). Other forms of real-money poker possibly violate state law.
California is The Land of Sunshine and Opportunity, and residents of California have the opportunity to gamble on poker games without fear of prosecution. Californians have pretty easy access to land-based casino gaming, but online poker games are far more convenient. Not only have there never been any arrests made in California for online gambling, the state's penal code doesn't cover online gaming at all, meaning there is no law on the books to prosecute online gamblers.
Residents of Colorado are welcome to play poker online or in home games without fear of prosecution. Colorado residents don't have as many land-based casino gaming options as other Americans, so citizens of the Rocky Mountain Empire turn to private home games and online poker to get their fix. Eight states in America have specific laws on the books against online gambling of any kind, but Colorado is not one of them.
Residents of Connecticut are not only welcome to play at existing online poker sites or in home games; they may soon be some of the first Americans to play at state-regulated poker sites. The Constitution State is set to offer online poker and casino gaming through existing tribal gaming entities. Connecticut is one of the most poker-friendly states in the nation.
Residents of Delaware are among the luckiest in the country when it comes to legal poker play - state laws in The First State don't address online poker play and are relatively friendly to private poker games.
Residents of the Sunshine State that want to play poker have a lot of options to choose from – tribal gaming sites offering poker games dot the state, and online poker is still technically legal within state lines.
Residents of Georgia do not face any kind of prosecution for playing poker online or in most private home games. There are even a few tribal gaming properties offering poker play at land-based casinos in the Peach State. The state government has yet to make a law against online or private poker play.
The Aloha State is not interested in prosecuting online poker or casino players, so even though Hawaiians have no access to traditional casino gaming, Internet poker games are totally safe for Hawaiian citizens. The state's tourism board has yet to allow land-based casino play, for fear of competition for tourist dollars, but Internet poker and private home games are safe.
Residents of Idaho should not fear arrest or prosecution for playing poker online or in home games. There has never been a single arrest in the Gem State related to online casino or poker play - Idaho is not one of the eight states that put anti-online casino gambling laws on the books.
The state of Illinois has one of the toughest sets of laws against online casino and poker play of any American state. Illinois is one of a handful of states that's put laws on the books forbidding Internet casino and poker gambling. The good news is the biggest penalties apply to people who operate illegal casinos, not players. Besides, Illinois poker players enjoy easy access to legal land-based poker play. The Land of Lincoln is stuffed with traditional poker room and gambling venues.
If you live in Indiana and want to play poker, you may be putting yourself at risk for prosecution. Indiana's state law makes it a felony to provide gambling online and a misdemeanor to join and to play at online casinos and poker rooms. Indiana also has a "professional gamblers" statute that can lead to a felony conviction if your poker play reaches a certain level. Playing poker online in The Hoosier State is risky. However, to date no player has been arrested for playing at an online poker site within Indiana's borders. 
Residents of Iowa who want to play poker are in luck – America's Break Basket has one of the most poker-friendly sets of state laws in the USA. Since Iowa residents cannot easily travel to land-based poker play, lacking many options for traditional poker in casinos inside state lines, online poker is both legal and convenient. Iowa's gambling-friendly state laws allow for private poker games as well.
Poker players in Kansas have a number of options when it comes to their gambling venue. The state has a few tribal gaming site offering legal poker games, and the state doesn't have laws limiting or making online poker play illegal. Though Kansas is not yet considering offering state-licensed online poker games, you can play poker online within Kansas state lines with impunity.
The state of Kentucky is not one of those parts of America where tribal gaming or other casino options are widely available. However, the state government has made no attempt to make online gambling or playing online poker illegal. Residents of the Bluegrass State that want to get a taste of Texas Holdem action can turn to Internet games without fear of prosecution.
The state of Louisiana may be the best-known crusader against online gambling. The state's "gambling by computer" law was one of the first in the nation to make any kind of wager placed over the Internet illegal. Fortunately for poker fans, citizens of Louisiana have plenty of riverboat and tribal gaming casinos to pick from, and the Louisiana government is considering the tax-and-regulate model for Internet poker play over the next couple of years. Even though Louisiana is one of the few US states with laws against poker games online, no citizen the state has ever been arrested under these laws.
Because Maine citizens can't easily drive to a casino or poker room, playing poker and other games of skill and chance at online casinos is the most convenient way to gamble. Good news for Mainers – there's no state law they can be prosecuted for when placing online poker bets, and restrictions on private poker games are minor.
The state government of Maryland has not made any noise about running their own licensed online casino and poker games, but citizens of Maryland who want to play poker can place bets at online casinos without fear of arrest. People who live in Baltimore or Chevy Chase are just a short road trip from casinos in nearby states, but a lack of laws against online poker make Internet poker play far more convenient.
Citizens of Massachusetts can place all the wagers they want at poker websites without fear of prosecution by the state or seizure of their bankrolls. No Massachusetts laws exist making Internet poker play illegal. Plenty of gaming sites offering land-based poker are within a day's drive, and the state's restrictions on home games are minimal as well.
The state of Michigan currently allows people to place all the wagers they want on Internet poker games. Poker fans can also take advantage of plentiful tribal casinos in and near Michigan, but online poker is far more convenient, especially since no laws exist to make online play illegal.
States with large Native American populations, like Minnesota, tend to have a variety of tribal gaming casinos open for all types of gambling. Minnesotans can also play online poker games, which are easier to access than poker rooms in land-based casinos. With no laws in the Minnesota penal code addressing online gambling, poker players shouldn't fear arrest or prosecution for making poker bets over the Internet.
The state of Mississippi is full of gambling options - riverboat casinos, tribal casinos, and even small roadside gaming sites offer poker and casino play twenty-four hours a day. Online poker games are also a popular choice for citizens of Mississippi, since state law does not allow for any prosecution of Internet poker or casino gamblers.
Poker Law in Missouri           
The state law of Missouri does not address Internet gambling, so online poker players are not at risk of being arrested or having their player account seized. State-regulated land-based casinos are plentiful in Missouri, but because there are no anti-online gambling laws in the state penal code, online poker and other forms of gambling are popular. The convenience of gambling from home (and the lack of laws against online gambling) makes Missouri a poker player's paradise.
Montana is one of the eight American states with laws against Internet gambling in their penal code. The state law in Montana states clearly that all forms of gambling over the Internet are illegal. Montana also has one of the more strict versions of anti-online poker laws – a single wager can lead to a misdemeanor, and if a citizen is convicted more than twice, he faces felony arrests and hefty fines.
Nebraska residents don't have easy access to land-based casinos, so poker players often turn to Internet games to get their Texas Holdem or Omaha fix. The state law contains no language against online gambling, and no citizen of the Cornhusker State has ever been arrested for placing an Internet wager.
Poker occupies a strange position thanks to the unique definition of gambling found in New Hampshire law. Despite that, regulated poker is fairly rare in the state, existing only in the form of charitable-based gambling events approved by approved by state government. The situation is evolving as more land-based gambling comes to New Hampshire.
When New Jersey Governor Chris Christie stated publicly that he wanted New Jersey to be "the global center of online poker play," online poker players rejoiced. The state legislature is currently working on the first set of laws in the country allowing for legal online poker play provided by the state. Citizens of the Garden State should not fear prosecution for placing bets at online poker games, and in fact are looking forward to playing fully-legal online games controlled and taxed by the state government.
The state of New Mexico lacks any law against online gambling, so New Mexico residents are free and clear to place bets at online poker rooms. New Mexico residents have a few options when it comes to casino gambling, with some tribal properties operating in the state, but online poker is easier to access and (based on state law) 100% legal.
Nevada offers what might be the largest amount of ways to legally wager in the entire United States, both in terms of sheer volume of regulated betting and number of unique ways to place a legal bet. Poker players enjoy the maximum number of options - and the lowest legal liability - in the state of Nevada.
Between a large number of land-based gaming sites and a lack of laws against online gambling, residents of New York enjoy a wide variety of poker options. In The Empire State, there are no laws controlling online gambling, and no New York citizen has ever been arrested for wagering on Internet poker.
If you live in North Carolina, your options for casino gambling of any kind are a bit limited. Many North Carolina citizens travel up the coast to Atlantic City for their casino play. However, since the state doesn't have a law against online wagering, lovers of poker in the First in Flight State can join online poker rooms and place bets without fear of arrest.
Residents of North Dakota can legally place wagers on poker and other casino games online because the state does not have any laws against Internet gambling. This is important, since North Dakota residents don't have easy access to land-based gaming. In the Peace Garden State, there have never been any arrests for online casino gambling, and the state is not considering making Internet wagering illegal as of this writing.
Gamblers in Ohio enjoy a lot of access to gambling, from land-based casinos (some operated by tribal groups, others licensed by the state) to fully legal wagers at Internet poker rooms. Ohio citizens looking for poker games don't face prosecution by the state or federal government for wagering online. The Buckeye State has yet to arrest any citizen for gambling online, and there is no law in the state penal code that makes Internet poker betting a crime.
Oklahoma has one of the largest Native American populations in the US, so tribal casinos are big business in the state. Poker players who live in Oklahoma can also wager online without fear of arrest, because of a lack of state laws against online betting. Long story short, poker laws in Oklahoma are player-friendly.
The state of Oregon has one of the toughest sets of laws against poker and other casino gambling of any state in the US. According to state law, wagers on the Internet of any kind can lead to a Class C felony. Since placing even a single wager at an Internet poker game makes you a felon in Oregon, citizens of the Beaver State that want to play poker have to take a road trip to a nearby legal land-based venue. Home game law is also very strict; Oregon is one of the worst states for a poker player to live in.
Residents of Pennsylvania enjoy easy access to poker – the state and neighboring states are stuffed with land-based casinos, and citizens of the Liberty Bell State aren't up against any laws that make online poker bets illegal. Laws about private poker games in Pennsylvania are liberal and the ability to play poker on the Internet or at traditional casinos means Pennsylvanians enjoy among the lightest set of restrictions on poker play.
Rhode Island residents do not face any anti-online gambling laws, meaning they can play poker at the American-facing Internet poker room of their choice without fear of arrest or prosecution. If you live in the Ocean State, you can play poker at land-based casinos or online without worrying about breaking state law. Rhode Island has no law against placing bets at online games of poker.
In the Palmetto State, online poker bets are completely legal. No arrests have ever been made in South Carolina for online gambling, thanks to a lack of state laws against online betting. South Carolina doesn't have a ton of land-based poker rooms, but citizens can take a road trip to find a live poker game, or have a private game in their own home, all without fear of arrest.
The state of South Dakota's online gambling law is similar to the strict laws in Oregon. Both states punish online poker players who make a single bet with a felony. South Dakota has some of the strictest anti-online poker and casino laws in America, so South Dakota gamblers who want to play poker should limit their games to state-licensed casinos. The Mount Rushmore State has yet to arrest anyone for playing poker online, but the laws exist, and they are strict.
Located in a part of the country where Native American tribes run dozens of major casino gambling venues, Tennessee is a state where poker players have easy access to the game they love. A lack of laws in the state code against online poker means you can play poker online without worrying about being branded a felon or paying a fine to the state.
Texas citizens can play poker online, thanks to the fact that the state government has yet to make online gambling illegal. As for land-based poker play – that's a bit tougher to find. The Lone Star State has such a large border that gamblers can easily hop over to another nearby state where tribal gaming is legal. Laws on private poker games exist, but they're not any stricter than other state private poker game laws. No Texas citizen has ever been arrested for wagering on Internet poker games.
In some parts of Utah, Native American tribes have opened legal state-licensed poker rooms and casinos, so some citizens of the state can play poker at a live game just a few miles away. As for online poker, no Utah law exists that makes it illegal to play poker online.
State definition of gambling clearly covers games of poker played with real money. No live poker rooms exist in Vermont. Even home poker games may be frowned upon, at least by the letter of state law. Poker players can take part in state-approved charitable poker events. Alternative forms of real-money poker are potentially illegal in Vermont.
Because of the legalization and state licensure of online poker in nearby Washington, DC, the state of Virginia may soon be one of the first to provide poker and other casino games to its citizens over the Internet. For now, no Virginian online poker rooms exist, but the state does not have any law against playing at America-facing poker websites.
The state of Washington is one of the newest anti-online gambling states in the US. In 2006, the state made any wager placed online an automatic misdemeanor, with repeat convictions leading to felony penalties. The state clearly makes all online wagering illegal, and if you were prosecuted under Washington law for playing online poker, you would face high fines and the seizure of some of your assets. Want to play poker in Washington? Organize a private game (that follows the state's regulations on home poker games) or drive to a traditional casino site. Online poker is illegal in Washington.
West Virginians are free to bet online; poker players in the state can wager at any Internet poker room that accepts US bets. Some traditional casino poker venues exist in West Virginia, and the state regulates that type of gambling. Home poker games are allowed, under specific conditions set by state law.
In Wisconsin, a lack of state laws against online gambling mean citizens who want to play poker on the Internet don't face any prosecution by the government. Wisconsin has a few land-based casinos, and live poker play is also available in home games as long as those games follow state restrictions.
Residents of Wyoming have easy legal access to poker and other casino games. Wyoming residents have a few options for land-based gaming within state borders, or they can place poker bets online without fear of prosecution. The state has no laws against placing bets online.