US Poker Sites Accepting MasterCard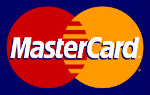 MasterCard is a popular brand of credit cards that is offered by hundreds of banks around the world and used by millions of consumers on a daily basis.  When it comes to poker, MasterCard is one of the more difficult credit cards to get approved since they have stricter policies when it comes to online gambling; however there are still a number of websites that allow MasterCard deposits from their players.  This article discusses how to obtain a MasterCard and use it to successfully deposit on many of the top sites. Although it may not work every time, most of the leading operators have the necessary facilities to allow deposits from players using their MasterCard credit card accounts.
Lists of the Best US Poker Sites Accepting Mastercard!
RANK
Poker Site
US
RATING
REVIEW!
1

100%

to

$1000

Poker Bonus

Huge $1000 First Deposit Bonus
Seats to Live Poker Tournaments

2

100%

to

$500

Poker Bonus

Easy to Clear First Deposit Bonus
Accepts Bitcoin Deposits

3

100%

Poker Bonus

100% Bonus up to $2500
Accepts All USA Players

4
5

100%

Poker Bonus to

$2500

Accepts All USA Poker Players
One of the Fishest Poker Sites

6

100%

Deposit Bonus

$1000

Excellent US Poker Room
Fast Payouts: 1-2 Days

7

100%

Deposit Bonus

$1000

$3.5 Million Guarantees
$1 Million Sunday Tournament
Top Poker Sites Accepting US MasterCard Deposits
To obtain a MasterCard you have a few options including applying through your bank, credit union or by purchasing a Pre-Paid MasterCard which are available at grocery and convenient stores in various increments.  If you obtain your MasterCard through the traditional route of either a bank or credit union you'll need to fill out an application form that covers your employment information, salary and other facts about you that will allow the institution to conduct a credit report.  The score from your credit report is used to decide if you will get the card and also what your starting limit will be for transactions.  Typically new MasterCard account holders will receive a limit ranging from $1,000 up to $10,000 depending on their credit worthiness, current annual salary and any other debt obligations.
After you've been approved and received your MasterCard credit card the next step would be finding a site that accepts MC deposits which can be somewhat difficult since it's a less used card online. 
On this page we've listed some of the better sites that have higher success rates for accepting the card.  The way that MasterCard is accepted at poker sites is through what's known as third party payment processors, basically a company that handles the financial transactions like deposits for the site.  What this means is that although you may be depositing at a specific site, the actual authorization of the card is being done by another company who receiving the funds before transferring them back to the poker room.  This is how MasterCard deposits are allowed online since using the card to deposit directly with the site is forbidden so third party companies must be used to ensure successful deposits.
When you sign up at a poker site and want to use MasterCard for your deposits you'll need to head to their cashier and register the card including the number, expiry date, your personal information as well as the CVV2 number which is located on the back of the card.  This information is required to ensure that the card is in fact yours and you are authorized to conduct transactions on behalf of the account.  Once you've entered these details your are free to make a deposit and fund your account, although all sites will have daily, weekly and monthly limits ranging from $1,000 - $5,000 depending on your account status and the capabilities of their processor.
Some other things to keep in mind if using MasterCard to deposit is that a lot of sites will require you to send them a photocopy of your card before a withdrawal to make sure that you are in physical possession of the card and are not using the card illegal.  While annoying this is a pretty regular request and once verified you'll usually not have to send the information in again to the poker sites support.